These places are debunking the "mystery meat" stereotype
Like burgers or steaks, what sets a good hot dog apart from a mediocre one all stems from the quality of its ingredients—a sentiment that's front-and-center when dining at a hot dog-centric chain restaurant. Unlike higher-end chain restaurants, like a steakhouse or seafood spot, quality is particularly important for hot dogs to set themselves apart with added effort and care, since these casual joints typically don't have the kinds of bells and whistles to compensate for inferior ingredients.
When it comes to quality ingredients for hot dogs, it begins and ends with meat (typically beef and pork for most chains). While other elements certainly factor in, from the bun to the condiments, the hot dog itself is clearly the star and should be treated as such. By using the highest quality hot dogs on the market, restaurants have a launching pad to ensure optimal taste and texture, without using products laden with antibiotics, and/or sausages that have been pre-frozen. Considering how innately unhealthy hot dogs can often be, this is one food item where it really pays to do your due diligence.
In addition to sourcing the highest quality hot dogs, though, quality control also extends all the way through the ordering and preparation process, in order to guarantee that the wiener is expertly cooked, prepared, and served in style.
With all this in mind, these are the 5 hot dog chains that use the highest quality ingredients in America.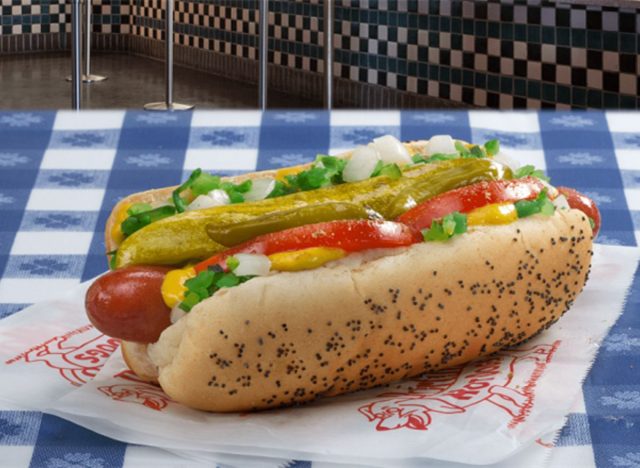 One of the most beloved regional hot dog chains, based in the hot dog mecca of Chicago, is Portillo's. With a menu emphasizing hot dogs, it's good to know that they use 100% beef and are regarded as one of the best hot dog chains in the nation. It's also a favorite among chefs, which always bodes well.
A lot of this stems from the chain's ingrained ethos of quality and transparency. After starting as a trailer in 1963, which owner Dick Portillo referred to as The Dog House, the brand has evolved to numerous locations across the country—all while keeping itself dedicated to quality, craft, and creating welcoming environments for guests and employees alike. Char-grilled, then "dragged through the garden" with quintessential Chicago-style toppings like mustard, relish, celery salt, chopped onions, sliced red ripe tomatoes, and sport peppers, these bad boys are all served in steamed poppyseed buns.
With so many elements to consider here, Portillo's ensures that each and every ingredient is at peak freshness and prepared perfectly.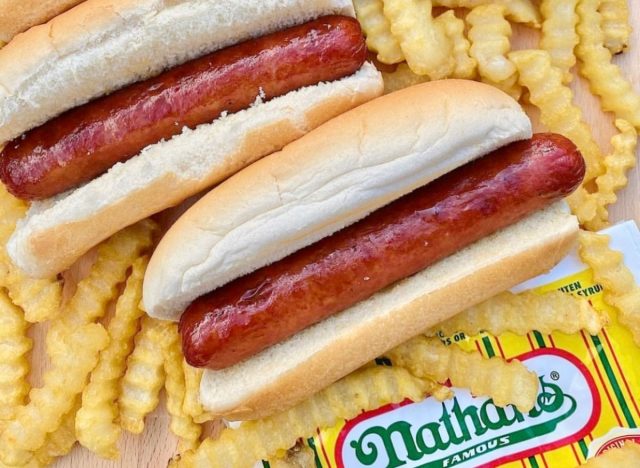 For a hot dog chain so prolific that it also appears on grocery store shelves, you can rest assured that Nathan's Famous knows a thing or two about quality control. Not only does this widespread hot dog chain feature its own line of all-beef franks, but they're some of the very best on the market.
Originating as a no-frills hot dog stand in Coney Island in 1916, Nathan's now has hundreds of locations across the globe, and still fares very well in a blind taste test, earning points for pure beefy flavor and pleasant snap. Regardless of how ubiquitous or not, the chain is regarded as a fan-favorite nationwide. And its dedication to quality is evident in its consistent forward-thinking business practices, such as launching a line of uncured beef franks without any nitrates or artificial ingredients, and as minimally processed as possible.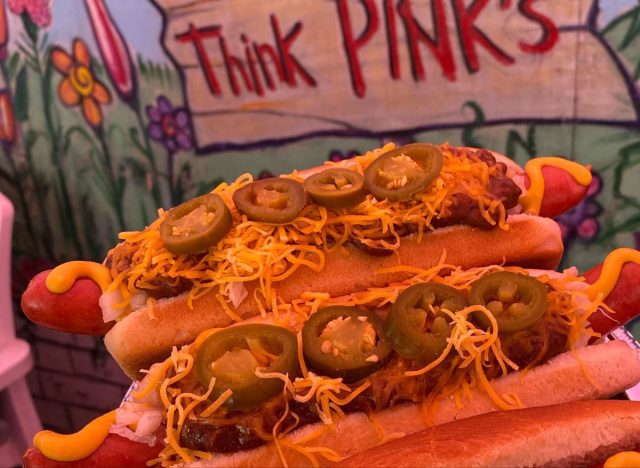 Pink's is renowned throughout the West Coast as more than just comfort food—it's a Californian rite of passage. That's according to hot dog connoisseurs like Aron Schwartz, chef of Ranch 45 in Solana Beach, Calif., who proclaims that it's not only one of his favorite chains, but it's a taste of pure Americana.
"Eating a legendary LA Pink's Hot Dog is like tasting the past," he raves. "They are iconic because the hot dog hasn't changed and it snaps when you bite it." As someone who values quality, Schwartz notes Pink's does a reputable job with consistent quality and a miscellany of topping options. That's because "consistent quality is the first priority," according to its owners, and the hot dogs are as pure as can be, made from 100% beef, with good textural pop and fun menu options like chili dogs, coleslaw dogs, and even guacamole dogs.
Wienerschnitzel is an old-school chain that does a lot of things right. It serves some of the best fast-food corn dogs and chili, for starters, but this is a brand—born in 1961—that has built its name on hot dogs. And indeed, they are some of the best and purest hot dogs in the country.
Customers love them for their "better quality," and the chain is so serious about the meat that it rolled out a marketing campaign to be more transparent about sourcing and debunk the stereotype that hot dogs are mystery meat. Made from USDA-approved cuts of meat, Wienerschnitzel's hot dog menu is filled with options, from the basic chili dog or mustard dog to kraut dogs, Chicago dogs, and Texas BBQ dogs.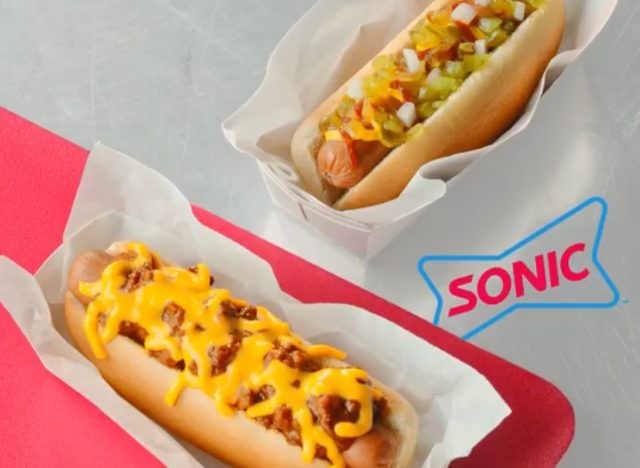 While Sonic Drive-In may not be as hot dog-centric as the rest of the wiener-slingers on this list, it still merits inclusion for the mere fact that it serves some of the best fast-food hot dogs in America. It all starts with 100% pure beef hot dogs, which can be topped with all manner of tasty additions, like chili, diced onions, mustard, relish, and shredded cheese, all heaped in a warm, fluffy bun.
The brand got its start in Oklahoma in the '50s, and now boasts thousands of locations across the country—demonstrating a meteoric rise that speaks volumes about the quality of its menu. Some customers even liken Sonic to the "drive-in version of carnival food," lauding its hot dogs as a quintessential Americana snack.
Matt Kirouac
Matt Kirouac is a travel and food writer and culinary school graduate, with a passion for national parks, all things Disney, and road trip restaurants.
Read more about Matt
View Original Article