Imagine you're having a Chicago hot dog, living the dream in each bite. The sausage is soooooo perfectly grilled. The mustard drips off the side of your mouth. And the seasoning ignites your taste buds like fireworks on the 4th of July.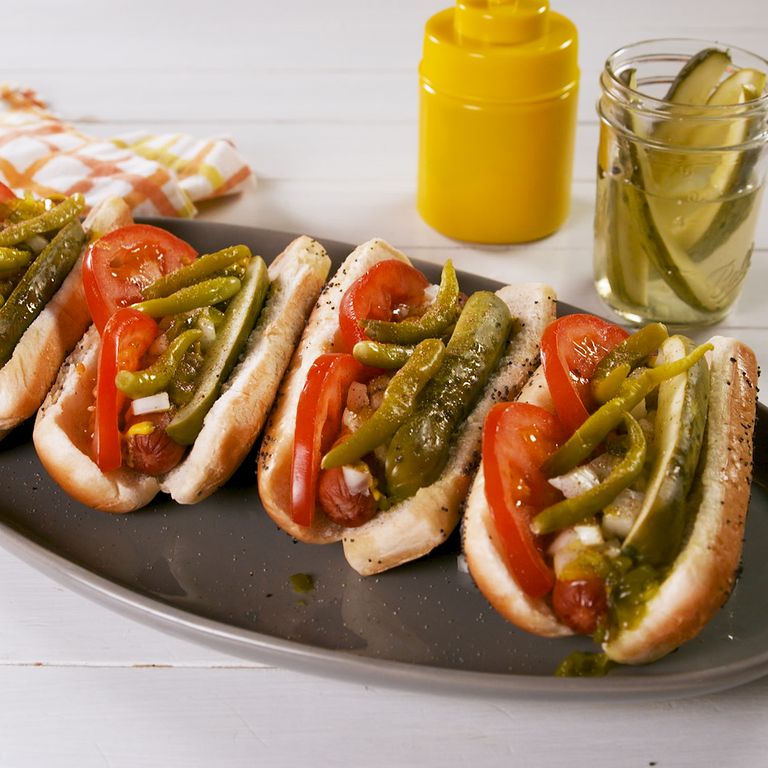 Then someone decides to prank you. They walk up to you and say something like;
"Did you know hot dogs are made of rotten meat?"
Two things. First, that's not a fact. Second, that would really put you off, wouldn't it? The thought of spoiled meat being the source of your food. But then if you know the truth, that statement would have nothing on you. You'd simply counter it with;
"Oh, that's not true." And keep on munching!
We can assure you, there are several hot dog tall-tales. But when you're armed with verified information, you'll be quick to distinguish fact from fiction.
You'll also stay more healthy and satisfied as you discover new sides to America's favorite snack. For instance, did you know you can go Keto with hot dogs? Now that's a fact!
Table of Contents
The Ultimate Fact: Hot Dogs Aren't Made of Dogs
Fact 2: The Connection Between Hot Dogs and American Baseball
Fact 3: Why Hot Dogs Are Packed in Tens and the Buns Packed in Eights
Fact 4: How Many Hot Dogs Do Americans Consume Yearly?
Fact 5: Hot Dogs Are Keto-Friendly
Your Favorite Meal, Our Favorite Stories
The Ultimate Fact: Hot Dogs Aren't Made of Dogs
You probably fell for this prank when you were little. Maybe you've even shied away from hot dogs since then. But here's some good news—hot dogs aren't dog meat.
The major ingredients in hot dogs are beef or pork, or a mix of both. Some are also made of chicken or turkey. According to CNN Travel, the traditional hot dog arrived in the U.S. as a mix of beef and pork.
"…the all-beef hot dog, as we now know it, takes its roots from Jewish-American butchers, who, due to Kosher restrictions, chose not to use pork in their meat blends." — CNN Travel
The meat is mostly gotten from the animal's muscle. If a manufacturer uses other parts of the animal such as its kidney or intestine, the U.S. Department of Agriculture (USDA) demands;
"The byproducts (heart, kidney, or liver, for example) must be named with the derived species and be individually named in the ingredients statement." — USDA
After cutting the meat, the manufacturer cleans and blends it with other ingredients like;
Water
Spices
Garlic
Salt
Nutmeg
Coriander
Why, Then, Are They Called Hot Dogs?
In the 1880s, German immigrants moved to America with dachshund dogs and sausages. These sausages were common in Germany since the 13th century, and the indigenes called them "frankfurters," a name that originates from Frankfurt, Germany.
The German dachshund dogs were rather strange—they had long, thin bodies with tiny legs. As a result, people made fun of them. More jokes sprouted when people realized that the German dogs and German sausages bore some resemblance to each other.
"In fact, even Germans called the frankfurter a 'little-dog' or 'dachshund' sausage, thus linking the word 'dog' to their popular concoction."
— National Hot Dog and Sausage Council (NHDSC)
Although there are other stories on how the name "hot dog" originated, this is the most authentic, according to historian Bruce Kraig, Ph.D.
So when next you think of hot dogs, don't go wondering if you're eating dog meat. Rather, think of Germans and their little dachshund pets.
How About the Name "Wiener"?
Americans also refer to sausages as "wieners." This name stems from a kind of sausage made of beef and pork in Vienna, Austria.
Although most people interchange the names frankfurter, wiener, and sausages, Germans take the difference seriously. In most parts of Germany, sausages made of pork and beef are called "wieners," while those made of only pork are frankfurters.
Fast Fact: Even though sausages have been popular in Germany since the 13th Century, hot dog historians argue that sausages don't have their origin in Germany. According to these historians, its original roots are unknown.
Fact 2: The Connection Between Hot Dogs and American Baseball
It's an open secret. Americans consume more hot dogs at the peak of baseball season, between Memorial and Labor days.
Why does the craving rise during this period? Well, there are two ways to look at it:
The Simple Way: Some modern hot dog lovers don't believe in "fairytales." They simply believe that the relationship between hot dogs and baseball has to do with certain logical advantages:
Hot dogs are fast food. Street vendors realised that they can easily grill a sausage and place it in a bun for their on-the-move customers during a baseball game. It's fast, the supply meets the demand, and profit comes in quickly.
Hot dogs are cheap, yet satisfying. Customers like it when they can get a meal that fills up their stomachs at little cost.
The Legendary Way: According to a popular tale, a street vendor used to sell sausages during baseball games in New York. He would roam the streets calling "red-hot dachshund sausages for sale."
One day, a cartoonist was walking by—probably heading to the baseball game—and the scene captured his attention. He pulled out his paper and sketched a literal dachshund dog, smeared with mustard and wrapped in a bun.
Legend has it that this cartoonist couldn't spell "dachshund" (admittedly, that's quite difficult to spell). So instead of writing dachshund sausages as a caption, he wrote "Get your hot dogs," and placed it on the vendor's stand.
The drawing gained popularity for the vendor and since then, hot dogs have been a fan favorite at American baseball games.
Fast Fact: This legend doubles as one of the many stories about how the name "hot dog" originated.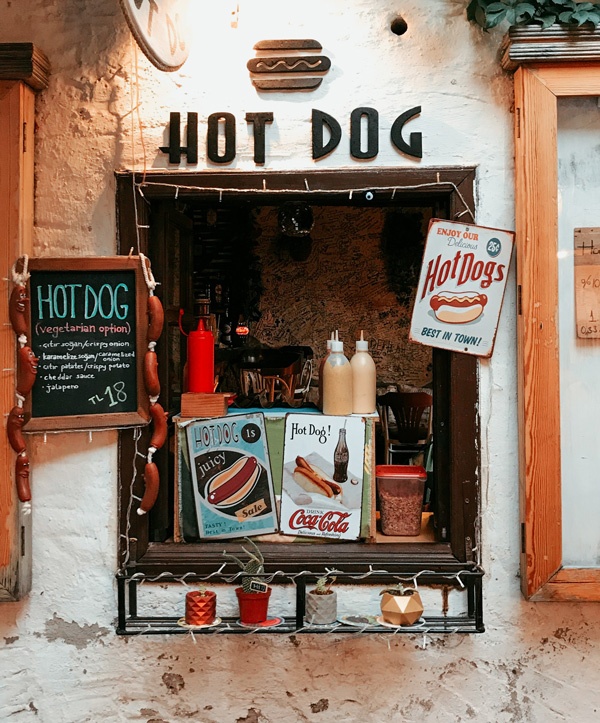 According to the NHDSC, another legend believes that a German immigrant who owned the St. Louis Browns baseball team started the tradition of hot dogs at American baseball games.
For those who believe in these legends, it's as simple as taking popcorn when watching a movie. What are movies without popcorn? What are baseball games without hot dogs? It's just tradition.
Fact 3: Why Hot Dogs Are Packed in Tens and the Buns Packed in Eights
It's party time and you're at the grocery store. You're excited, till you get to the hot dog aisle. There you have it again. The buns come in 8-piece sets while the hot dogs are packed in 10-piece sets.
This has probably happened to you a couple of times. You were stuck on the aisle, wondering how many packs of each to buy in order to have an equal number.
Thankfully, some manufacturers now pack sausage buns in tens or twelve. Even sausages now come in varying sets, between 4 and 10. But most manufacturers still stick to the standard eight and ten pieces per set, and you're curious. What's the story behind this practice?
Right from the 1940s, butchers measured and sold meat per pound. So when manufacturers began packaging hot dogs—even though it's processed meat—they stuck to this practice. One hot dog weighs about 1.6 ounces, so ten pieces would be one pound.
As for the buns, we can blame its packaging on baking pans. Bakers' pans were originally designed to hold eight pieces of sausage buns. It was only ideal that manufacturers packaged each set accordingly.
Fact 4: How Many Hot Dogs Do Americans Consume Yearly?
It's hard to put a precise number on it, but here are some mind-blowing statistics:
According to NHDSC, 95% of American homes consume hot dogs, amounting to about 20 million purchases per year. This includes those bought at retail stores, carnivals, festivals, and baseball games.
In 2020, CNN Travel reported that hot dog sales were up by 127%, even before baseball season.
Fast Fact: National Hot Dog Day falls on different days each year, between April and July. Though not a formal holiday, it's usually sponsored by the NHDSC.
Other hot dog celebrations abound across America. One of them is the West Virginia Hot Dog Festival, aimed at raising money for young cancer patients.
Fact 5: Hot Dogs Are Keto-Friendly
An average piece of sausage contains between 2 and 4 grams of net carbs. This is way less than the daily limit for a keto diet. Sausages are also rich in protein and fat, two essential elements of the keto plan.
However, the wrong toppings, buns, or even the wrong type of sausage can ruin your meal plan. Always bear these in mind:
Avoid sausages with nitrates, sugar, sorbitol and excess gluten.
Use yellow mustard or mayonnaise as your spread instead of sauerkraut, ketchup, barbeque sauce and relish.
Regular hot dog buns contain 20-25 grams of carbs per piece, so you'd want to avoid those. Switch to vegetable or faux buns instead. These contain about 4g of carbs each.
With our keto recipes, you can enjoy a variety of healthy hot dog meals. We've also included recipes for faux buns and low-carb ketchup.
Your Favorite Meal, Our Favorite Stories
We love writing about hot dogs. Why wouldn't we? Hot dogs are probably the best thing that happened to American baseball since Babe Ruth.
So what are you scouting for? Tired of the New Yorker and looking for alternative ways to enjoy hot dogs? Or do you just want to know all there is to know about this snack? Perhaps you've never had a hot dog and you're wondering how to eat it.
Get your grills and pans ready. Lick your lips and prepare your taste buds for some delight. Because in this space, all we know are hot, mouth-watering sausage dogs.
More from Articles
---
A lot of effort and preparation goes into Christmas dinner. The designated chef will often start sourcing produce months in …
Craving a spicy kick to the quintessential all-American snack? Hot dogs have evolved from a simple sausage on a bun to …
Everyone has their own way of doing Thanksgiving. However, one thing is for sure; food is at the center of …
Editor Picks
---