Come rain or shine, the humble hot dog is a staple.
There are lots of variations as to what type of hot dog and bun or non-bun combination you can create nowadays. From chili dog jacket potatoes to Jalapeño Popper Dogs. The creativity of humans knows no bounds!
With that being said, what you top on your hot dog is up to you but there are plenty of choices beyond just the traditional ketchup or mustard.
So what are some of the best hot dog topping ideas floating around on the internet nowadays?
Here are a few suggestions to get experimenting next time you have a hot dog treat or two.
1. Avocado and Bacon
It's the slight sweetness of the avocado and the saltiness of the bacon that makes this an award-winning combination for any hot dog, as well as on top of any hot breakfast dish.
You've got that creaminess of the avocado that breaks up the other textures you get with the hot dog bun, the sausage itself, and the crispy bacon strips, or bacon bits that you sprinkle over the top.
2. Sweetcorn Salsa
If you're a fan of salsa on your dog as opposed to your typical ketchup sauce, then this sweetcorn salsa should elevate your salsa topping from now on. This has all the typical ingredients that you'd expect in a salsa from onions, tomatoes, garlic, etc. but with the addition of sweetcorn.
Sweetcorn is a great topping for a lot of typical fast-food dishes and it works well on the hot dog.
3. Homemade or Pre-made Chili
Whether it's a can of pre-made chili or you prefer to make your own chili, a dollop of chili on top of your dog goes down a treat. There's nothing like a bit of spice to give your hot dog that extra flavor. It can really help when you have quite a basic hot dog sausage with little flavoring added to it.
There are a lot of flavors that the chili can provide and that really enhances your hot dogs. It'll certainly impress your guests next time you whip them out at a BBQ.
4. Mac & Cheese & Bacon
Just when you thought the hot dog couldn't get any better, you add on Mac and Cheese with rashers of bacon added on top. It's a great mix that will no doubt triple the calorie content of the dog – so probably not your healthiest meal of the week.
The creamy cheese and extra carbs cut through that salty bacon and provide a delicious mouthful with every bite of the dog. Even the hot dog bun will be tastier with this combination added on top.
5. Gravy & Fries
Ever tried poutine with hot dogs? They're a game-changer. The gravy provides a great sauce for the hot dog and the bun, along with the fries.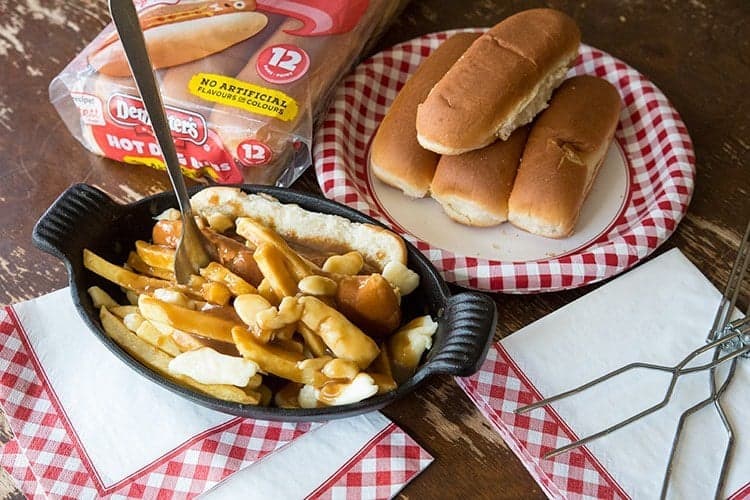 It's definitely more of a substantial meal when you're adding on poutine. It's easy to assemble too and there's no such thing as too much gravy! Fries can also go on top but they are the typical accompaniment with hot dogs and burgers in general, so they're not too far from the norm.
6. Sauerkraut
Sauerkraut isn't everyone's favorite when it comes to accompanying it with a dish but it works well as a hot dog topping. For those who are unfamiliar with this food type, it's finely chopped raw cabbage that has been fermented. 
As a result, you get a salty and sour topping for your hot dogs. Some light to combine this with hot sauce to essentially make kimchi but without it's just as tasty.
7. Nachos and Cheese
Why not combine two popular dishes together? With Nachos and Cheese, you can get mix the salty and savory flavors of chips and a cheesy sauce on top of the hot dog bun. The nachos add that extra crunch and who doesn't want another excuse to include gooey cheesy sauce on a meal?
It's a crunchy and deliciously tasty topping that you'll want on every hot dog you have in the future.
8. Salt & Vinegar Chips
It's not your typical topping and usually accompanies a sandwich but chips are a great crunchy topping for your hot dog. Any flavor will do it but you might find the best combination is salt and vinegar.
You've got two additional flavors there that will help enhance your sausage meat and it's not overly complicated so will suit most tastebuds.
9. Pickled Jalapenos 
Pickled Jalapenos are a great choice to add to your hot dog bun. They're spicy and sour, which for some is a great combination.
If you like a bit of heat but want something to counter-act it slightly, then this is a great topping that you can easily add to your hot dogs without any fuss.
There are plenty of hot dog toppings that are out there and worth trying – each state in the US alone has its own unique topping!
Make sure you try one of these when you're next due a hot dog snack!
More from Articles
---
A lot of effort and preparation goes into Christmas dinner. The designated chef will often start sourcing produce months in …
Craving a spicy kick to the quintessential all-American snack? Hot dogs have evolved from a simple sausage on a bun to …
Everyone has their own way of doing Thanksgiving. However, one thing is for sure; food is at the center of …
Editor Picks
---