Americans are obsessed with hot dogs and we totally get it. There are so many wonderfully tasty options. From Chicago dogs to Detroit dogs and everything in between, there's no limit to what you can put on a frankfurter in a bun.
Whether you prefer a street dog or a chili dog, the most important part of the hot dog is the weiner. How it's prepared largely determines how it tastes.
Rutt's Hut restaurant in Clifton, New Jersey, is famous for their deep fried hot dog: Rutt's Ripper. It's considered to be the undisputed best deep fried hot dog in America.
They serve varieties of the Ripper, from lightly fried hot dogs to medium fried to blackened. 
What if I don't live near Rutt's Hut in New Jersey?
No worries. You can deep-fry your own hot dog at home, and we'll tell you how. We've answered all of your sizzling questions such as:
What is a deep fried hot dog?
How do you deep fry a hot dog?
Are deep fried hot dogs better than grilled hot dogs?
Let's get cooking!
What is a Deep Fried Hot Dog?
A deep fried hot dog is a hot dog in which the weiner, sausage, or frankfurter is fried rather than grilled or boiled. By frying the hot dog, the casing is crisped and splits open.
The hot dog's crust turns brown and becomes caramelized. Although the appearance can seem unappetizing, the flavor more than makes up for its looks.
They're incredibly juicy with an extremely heightened flavor content. Usually once someone eats a ripper, they often can't go back to grilled hot dogs again.
They're that good…
Surprisingly, the hot dog absorbs very little fat while frying. It's much less than french fries. So for those of you concerned about eating a deep fried hot dog containing an excessive amount of fat, you can relax.
How Do You Fry a Hot Dog?
There are a few different options for frying a hot dog. You can either use a frying pan with some olive oil or water, an air fryer, or a deep fryer with oil.
The method is a personal preference but the result is the same— a juicy, delicious, melt in your mouth explosion of flavor.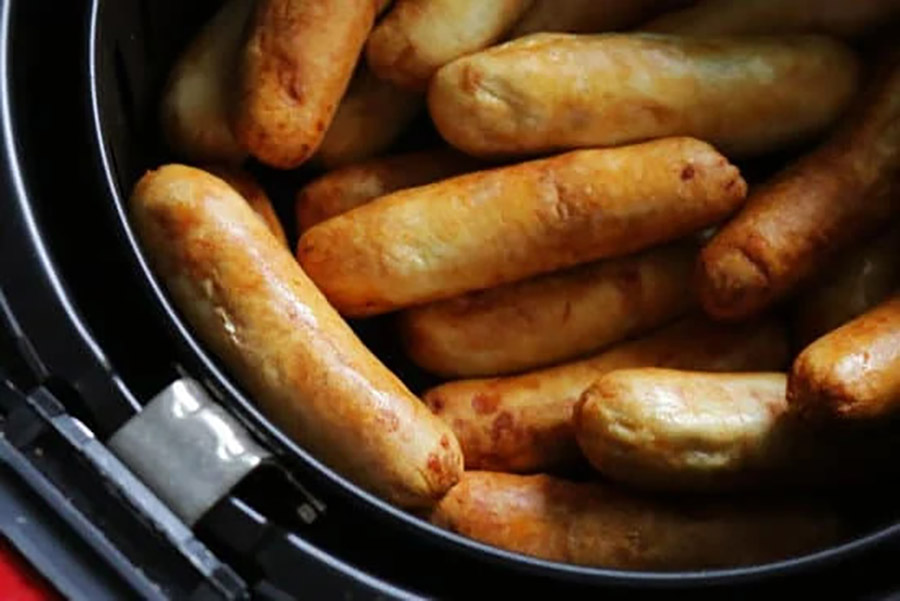 How do you deep fry hot dogs in oil?
To deep fry hot dogs make sure that your dog has a casing. For hot dogs with casings, you want to fry them in oil at 350 degrees.
Some people suggest 375 degrees but you run the risk of them burning or setting off your smoke alarm.
The oil temperature is very important.
Also, make sure that your dogs are not frozen. Thawed hot dogs always work best because frozen hot dogs just don't turn out as well.
For an added burst of flavor, try wrapping your dog in a strip of bacon before frying (your tastebuds will thank you).
Can you fry hot dogs in oil?
Both vegetable oil and canola oil work well for deep frying hot dogs.
If you aren't using a deep fryer, a fairly shallow pan will work just fine. If you want to fully immerse the dog in oil, use a splatter screen or lid for safety.
How long do you deep fry a hot dog?
Below is a table you can use as a guide for the temperature and time to cook your hot dogs for the desired result.
| Temperature | Cook Time | Color Consistency |
| --- | --- | --- |
| 350 degrees | 30 seconds – 1 minute | Barely brown |
| 350 degrees | 2-4 minutes | Crispy browned |
| 350 degrees | 5 minutes | Blackened |
| 375 degrees | 30 seconds | Barely browned |
| 375 degrees | 2-3 minutes | Caramelized brown |
| 375 degrees | 4-5 minutes | Blackened |
Once your dogs reach the desired color and crispiness, remove them from the hot oil and drain them on a paper towel.
Serve them in a warmed or toasted bun, top with your favorite garnishes and enjoy!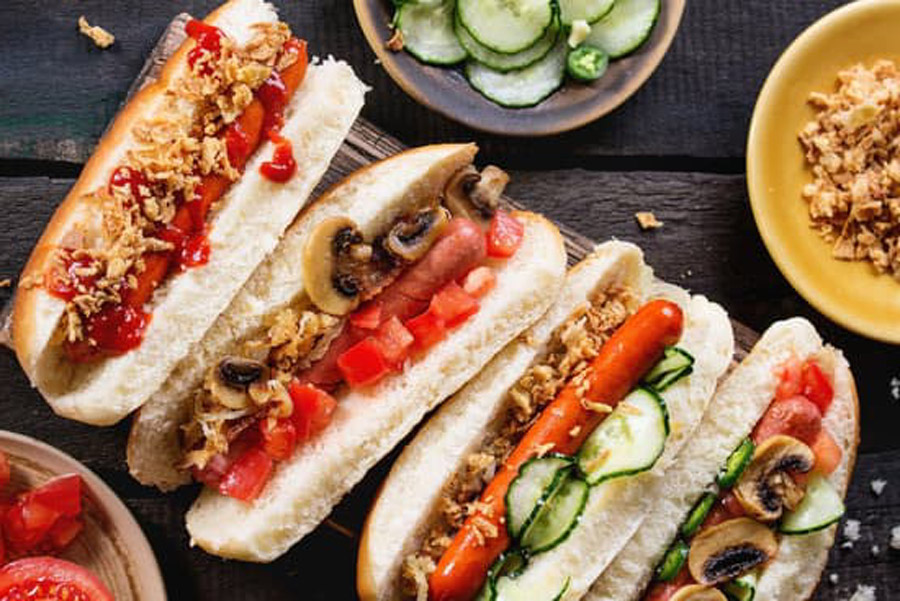 How do you pan fry a hot dog?
Diagonally slice the dog about a quarter of the way down and fry them in a little olive oil.
You'll want to use a splatter screen so that the oil doesn't spit at you as it cooks.
How long to pan fry hot dogs and what temp
Simply cook on medium high heat until the dogs reach the caramelized color you desire.
Place them on a paper towel to drain, and serve them in a warm, toasted bun and dress them with your favorite toppings.
If you're concerned about the dog splitting and splattering oil, you can cut the whole dog lengthwise and fry it cut side down.
It won't be juicy, but it's a safer way to fry a hot dog in a pan without the risk of the casing bursting.
Another option when using a frying pan or good-quality cast-iron skillet is to use water instead of olive oil. By steaming the weiners, they are browned beautifully without bursting open.
Here's a very simple yet satisfying recipe for pan frying.
How to pan fry hot dogs:
Add about 1 inch of water to the surface of the pan.
Using medium-high heat, heat the pan until the water begins to boil off.
Gently add the hot dogs, only a few at a time. Work in batches.
Steam them by rolling them around the pan until they reach the desired browned color.
Toast your hot dog bun and cover them in your favorite add-ons and enjoy!
How to air fry hot dogs?
Unlike using a grill or frying pan, you don't need to preheat the air fryer. It's a fast and simple way to make as many or as few hot dogs as you like.
How long to air fry hot dogs and what temp
The cooking time is the same as mentioned above and you can crisp the hot dog and the bun in one device.
Unlike with most air fryer recipes, you won't need to spray the air fryer basket with oil because the hot dog will render its own oil and not stick to the basket.
Simply cut small slits in the hot dogs which give the appearance of grill marks. You can omit this step if you want, since it doesn't change the texture or flavor and is only for aesthetic purposes.
Next, place your hot dogs in the basket. Close the basket and cook at 400 degrees for 4-6 minutes.
Remove the hot dogs from the basket and place them in the hot dog buns. Return the hot dogs and the buns back to the basket and cook them for 2 minutes at 400 degrees.
Take them out of the basket and top them with your favorite items such as— chili, mustard, ketchup, and sauerkraut.
What types of batter make a good deep fried hot dog?
Some argue that a hot dog dipped in a batter is actually a corn dog. However, others contend that a corn dog is actually a sweet, cornmeal battered deep fried dog on a stick, which is completely different. 
A beer batter is the most popular recipe for deep fried hot dogs. The following recipe serves 6 and takes only 15 minutes to prepare and 20 minutes to cook.
Ingredients:
6 hot dogs
1 Cup flour
3 Cups vegetable oil
1 bottle of beer ( any brand )
½ Cup flour to dust
Instructions:
In a bowl, add 1 cup flour.
In a separate bowl, add ½ cup flour.
Slowly add beer to the bowl with 1 cup of flour until you get a batter consistency.
Heat the oil in a deep fryer or deep pan to 350 degrees.
Dip the hot dogs into the ½ cup bowl of flour & then into the beer batter.
Carefully add the dipped hot dog into the hot oil, one at a time.
Turn several times to cook evenly, and cook until golden brown.
Drain on paper towels and serve on the bun of your choice with your favorite toppings.
How to make a Korean corn dog?
A childhood favorite gets the Korean treatment in this fun and easy recipe that is taking the Internet by storm.
You will be surprised at how simple it is to make this delicious fried treat. The dough is similar to mochi, and the result is crispy on the outside and chewy on the inside.
This makes a great party food, but it also tastes great for breakfast with a side of eggs.
Ingredients:
1½ cups glutinous sweet rice flour
¼ cup potato starch
½ cup milk
½ cup finely chopped corn kernels
½ cup mozzarella cheese, shredded
¼ tsp salt
This tutorial is one of the best outlining the preparation and assembly of the korean corn dog.
I love these because they are so quick and easy to make, but still delicious! They can be eaten any time of day as an alternative to other snacks that might be less healthy.
Deep Fried Hot Dogs vs. Grilled Hot Dogs
The main difference between a deep fried hot dog and a grilled hot dog is the added crunchiness that can only be achieved by frying.
Once you've tried a succulent fried hot dog, you might never grill another hot dog again. While grilling is great, it just doesn't compare to the crispy texture and juicy flavor its counterpart gives.
No matter how you like your blistered dog, sinking your teeth into a crispy, caramelized hot dog will remind you of a fun day at Coney Island.
This cooking method lends itself nicely to every variety of hot dogs known to man. It just takes the flavor to the next level.
We have other great hot dog recipes you will definitely want to try! We're on a mission to help everyone learn everything there is to know about hot dogs and have a good time doing it.
More from How-To
---
1.8K
Hot dogs are known to be fairly foolproof, yet somehow, people still manage to create culinary sins when cooking this …
9.3K
Knowing how to grill hot dogs is one of the fastest ways to turn a gathering into a party! Everyone's always …
5.0K
No snack is as quintessentially American as the good ol' hot dog. A staple on the stands at baseball games and …
Editor Picks
---