Chicago…
The windy city has inspired films, songs, poems, and magical food that evoke a sense of belonging.
Chicago has many brands its citizens are proud of—the Cubs, Bears, Blackhawks, and White Sox.
The famous Chicago-style hot dog is right up there in the queue.
"The Midwest has several culinary traditions, and one of the biggest surprises is the simple hot dog. People in Chicago are very, very serious about hot dogs. The number of toppings and the specific sequence of layering on the dog of your choice is practically mind-boggling."—King Arthur Baking.
The Chicago Dog has as rich and wonderful a history as the city itself.
If you're a red meat lover, you'll be intrigued by it, run off to the shop, buy the perfectly 'dragged through the garden' ingredients, and pack a hot dog punch for your family tonight.
What Makes a Chicago Hot Dog Different?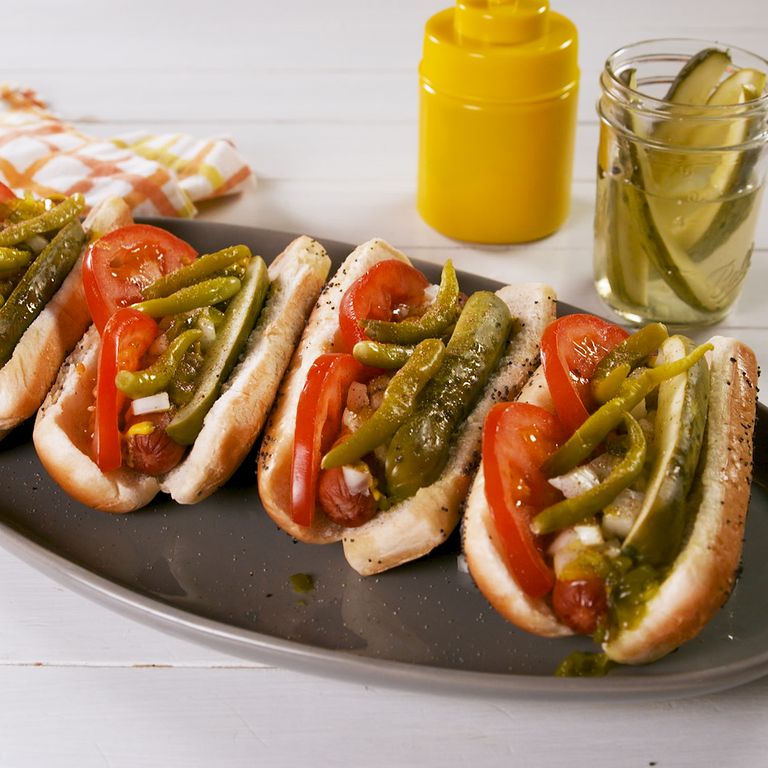 It's all about the meat—we explain a bit further on—and the eight other ingredients you need on top of it to call your dog a Chicagoan treat.
It's one recipe you don't mess with, and you don't need to. It's perfectly balanced and packs a delectable taste punch exactly as is!
Once you've tasted an authentic Chicago dog, you'll wish it's National Hot Dog Day every day.
Ready to Make Your Own Chicago Dog?
Without any further delays, let's get down to making the perfect Chicago dog in the comfort of your own kitchen.
What Is on a Chicago Dog?
An authentic Chicago Dog has eight distinctive trademarks:
A poppy seed bun
100% beef Frankfurter
Chopped white onion
Neon green sweet pickle relish
Dill pickle spears
Fresh tomato slices
Pickled sport peppers
Celery salt
"A Chicago-style hot dog, Chicago Dog, or Chicago Red Hot is an all-beef frankfurter on a poppy seed bun, originating from Chicago, Illinois. You top the hot dog with yellow mustard, chopped white onions, bright green sweet pickle relish, a dill pickle spear, tomato slices or wedges, pickled sport peppers, and a dash of celery salt. The complete assembly of a Chicago style hot dog is said to be "dragged through the garden" due to the many toppings."—Wikipedia
Source the Freshest Ingredients
As the Chicago-style hot dog consists mainly of fresh ingredients, they must be super fresh and crunchy.
If you have a local farmer's market in your area, it'a an excellent opportunity to grab yourself some fresh:
Tomatoes
White onion
Poppy seeds (if you're baking the buns)
Sport peppers (if you're making your pickle)
100% Beef Frankfurters
You can also opt to buy all the ingredients at your local grocery store if you want to save time—there are some great bottled relishes and types of pickle spears that'll work just fine.
If you're a foodie supreme and want to put your stamp on the dogs, here are a few simple recipes to help you get started.
How to Bake Poppy Seed Hot Dog Buns
We love this easy recipe from King Arthur Baking because their flour is unbleached—making it a healthier option all-round.
Ingredients for 10 Chicago Hot Dog Buns
Buns
3 cups Unbleached All-Purpose Flour
3 tablespoons Dough Improver or Baker's Special Dry Milk (helpful for shaping buns)
4 tablespoons butter or 1/4 cup vegetable oil
2 teaspoons instant yeast
2 tablespoons granulated sugar
1 1/4 teaspoons salt
1 cup lukewarm water
1 large egg yolk, white reserved for topping
Topping
1 large egg white, reserved from the dough
2 teaspoons cold water
2 teaspoons poppy seeds
Method
Combine all of the dough ingredients, and mix and knead until the dough is smooth and satiny.
Let the dough rise for about 2 hours in a warm spot.
Shape the dough into 10×3″ logs.
Working with one piece of dough at a time, flatten it, and fold it in half lengthwise, sealing the seam. Repeat: flatten, fold, and seal. By this time, the log will have elongated a bit; flatten it one more time, making a 6″ oval that's as even as you can get it.
Lay the buns about 3/4″ from one another for soft-sided buns; or farther apart for buns with crust all around.
Let the buns rise for another hour.
Preheat your oven to 350°F
Mix the reserved egg white with two teaspoons cold water, and brush the mixture over the top of the risen buns. Sprinkle heavily with poppy seeds.
Bake the buns for about 18 minutes until they're golden brown.
How to Make Quick Pickled Sport Peppers
According to TheSpruceEats, this marvelous little pepper has quite a history of its own. They recently said:
"In 1957, Chicagoans started to see their beloved Vienna Beef hot dogs dressed in the 'dragged through the garden' style, which included pickled sport peppers. The sport pepper fell out of favor in the 1980s, but it maintained a strong following in Chicago. Plenty of locals will tell you it's not a true Chicago dog without this particular chile. The Vienna Beef company even markets their own bottled sport pepper, which remains one of the most consistent ways to find the food."—TheSpruceEats.
It's fun and super easy to make signature pickled sport peppers. This recipe is an excellent baseline you can use for pickling an array of peppers, chilies, and jalapenos.
Ingredients
1 cup chopped sport peppers (you can use jalapenos if you can't find sport peppers)
1 cup apple cider vinegar
1 cup water
2 tablespoons natural honey
2 large crushed garlic cloves
1 teaspoon salt
Method
Prepare your peppers by removing the seeds and membrane. That's where the heat is buried. If you like very spicy food, you can leave it both in and simply chop the entire pepper.
Add the peppers and crushed garlic together in a glass jar.
Add the rest of the ingredients to a saucepan and bring to a boil until the honey dissolves completely.
Pour the sauce over the peppers, making sure all air pockets are filled.
Close the jar and refrigerate before use.
How to Pack Your Hot Dog Buns
The order in which you layer your scrumptious ingredients is as important as the beef sausage and poppy seeds in these dogs.
Let's go!
Step 1: Preheat the oven to 350°. Brush outside of hot dog buns with butter and sprinkle poppy seeds on top. Place buns seam side down on a baking sheet. Bake until lightly toasted and poppy seeds stick to the bun, 10 minutes.
Step 2: In a large pot of boiling water, add hot dogs and boil until warmed through, 5 minutes. If you prefer to grill your hot dogs for a perfectly crispy char dog, that's fine too.
Step 3: Place hot dogs in buns and then top with mustard, onion, relish, tomato slices, pickle spear, sport peppers, and a pinch of celery salt.
Bite into your Chicago dog and enjoy!
A Brief History of the Chicago Style Hot Dog
It's all about the meat.
So, if you're asking yourself:
Why Is Chicago Famous for Hot Dogs?
Hot dogs have a uniquely American history, and the Chicago Dog holds its own.
Here's a brief trip down memory lane to explain this tasty part of Chicago history.
Hot dog lovers from Chicago will forever be thankful to the Jewish community for bringing real meat to the hot dog vending scene on its streets.
The German immigrants, who introduced sausages to Chicago in the 1900s, used any combination of pork and beef to manufacture hot dog sausages at the time.
Coupled with a less than perfect health environment in the food production line, the natives were more than happy to buy kosher meats from the Jewish immigrants.
It offered them a 100% real beef option they could trust.
Hot dog vending soon became the Jewish community's main source of income, and BOOM, the rest is history.
Have a look at how hot dogs are really made to get your taste buds tingling for our Chicago dog recipe..
Why Is There No Ketchup on Chicago Hot Dogs?
Ketchup?
Reserve it for your fries, if you must.
True Chicagoans won't ever dare mess with the authentic nine components of true Chicago-style hot dogs. It would be sacrilege to their hot dog legacy.
Get Cooking the American Way
Listen—we can give you ten reasons why you should love hot dogs again.
But, after making a true Chicago dog, you'll only ever need one.
The same is true for many other great recipes you can try.
Why not take your hot dog-making skills to the next level by trying out some of these awesome recipes?
After all, the hot dog is an American affair, and we all have a secret recipe to boast about.
Sharing is caring, so let's get cooking!
More from Recipes
---
It's crazy to think that you can cook a humble hot dog in so many ways! From grilling to boiling, …
1.1K
Halloween is a spooky but fun time of year. Whether you host a regular Halloween party for all of your …
5.1K
Do you have some hotdogs that you've got leftover from last night's party? Perhaps you cooked a few too many for …
Editor Picks
---